A Mobile application Development Company plays the major role in providing one-stop solution for business purpose. F3 Digital is the new age digital solution provider agency that is forefront to quickly adapt latest technology and implement it design and develops creatively unique native apps, hybrid apps and responsive mobile-centric web applications.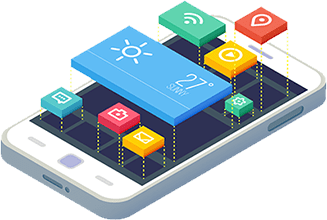 Contribution to the mobile app industry
We are the new age digital solution agency that is positively engaged in design and developing mobile-centric applications for various reasons like ecommerce, banking etc. We are intensely dedicated to technology and use it to build a professional and the competitive digital platform for business purpose.
Features of a good mobile app:
Easy to use
Responsive to adapt any screen size
Reliable and secure
Economic and Cost effective platform
Excellent performance
Customizable
Platform, search engine and social media friendly
Login dashboard for admin and seller to real-time updates
Why choose us?
While looking for mobile application Development Company, you can find a huge list over the internet to find-out the best solution for your need. Every client has some unique demands like app for I phone, blackberry or android phones, adaptability. Being a digital solution provider company, we discover variety of native, hybrid and mobile-centric web apps as per clients need and demand. We are punctual and dedicated to our job and serve the fully responsive and competitive mobile app development on time and at a reasonable price as well.
Sharper at technology
F3 Digital team is sharper at technology. We are focused on technology and have an eagle eye on latest changes in it. We have flair to conclude the result after research and choose the best option to make a mobile-centric complete solution as per client's need and demand.
---
Key Areas:
Android Application Development
We provide wide range of Android compatible application design and development.
I phone application development
Provide high-performing native applications for I phone devices.
Tablet application Development
We also design high performing tablet-centric applications development.
Windows App Development
Serve the windows based app development in distinct domain.
Custom mobile app development
Apart from app development for specific platform we offer to customize uncommon app development for different platforms.
App support system
We provide 24*7 technical assistance to our customer on mobile app technologies and usability as well
---
How we offer the best mobile application development to our customer
Being a digital solution provider agency we are focused on providing various types of digital solutions, mobile application development is one of them.
The eagle eye on technology filter us from the crowd and inspires to serve use latest tech. for app development
Our aim is to provide every smart phone supportive app development as per client need and demand
We make a full-fledge smart phone-centric app with various features demanded by the customer.
Serves the unique solution with an assurance of admired by everyone and customer's satisfaction with 24*7 as well.